Far North
Overview
The Life Education Trust Far North was set up in 1991 with the prime objective of delivering the Life Education programme to the children in the Far North region.
Our wonderful group of volunteers help keep the classroom on the road by holding regular fundraisers, promoting Life Education Trust messages at various events and occasions around the Far North and making sure all maintenance and repairs are up to date on the classroom and truck unit.
As we travel a lot of kilometres across the Far North, often 2 or 3 schools in a week, we need to have drivers available and ready to move the classroom at all times. This is a huge ask and we are lucky to have the support of some wonderful retired people, firemen and logging companies to help ensure it reaches the right school at the right time.
We love meeting new people with new ideas to help us, so if you would like to become involved with an amazing group of people do not hesitate to call or email the Chairperson at any time: Diane Henderson - dianesh50@gmail.com or 021 407015
The Trustees and Educator of the Far North would like to say a huge thank you to New Era IT. New Era have kindly provided our educator with a brand new laptop for free. This has been a great saving to the Trust and come at a time when the old computer was about to die.
Our Educators
Sharee Carr

Kia ora,

Beautiful Northland is my home, after moving from Auckland 20 years ago with my family.

I have been teaching here for over 12 years, and first met Harold when I took my early childhood tamariki on a visit to his mobile classroom. After seeing how engaged and excited the tamariki were during our visit, I knew this was something I wanted to be part of in the future.

Life Education is able to tailor the learning and inform tamariki on a diverse range of topics, with my passion being identity and resilience, as well as building healthy relationships.

I feel very privileged to be part of a team of educators that are able to share evidence based knowledge along with helpful skills, in a fun and inspirational environment.

I hope that Harold and I get to meet you at a kura or community event in the near future, as I am looking forward to sharing the amazing and positive messages Life Education has to offer in our region.

Shanna Forsythe (maternity leave)

Shanna studied Primary Teaching at Otago University and has been teaching in the Far North for the past 8 years.

She loves the vibe the Far North has to offer and can't picture calling anywhere else home.

Joining the Life Education team in 2021, she is excited to travel to all areas of the Far North with her good friend Harold. She is passionate about health and wellbeing and can't wait to work alongside tamariki, whānau and kaiako sharing our positive messages.
Latest news
June 2022
Harold is having an amazing time in the Far Far North visiting tamariki at Waiharara, Paparore, Pukenui, Te Hapua and now at Te Rangi Aniwaniwa. He even took some time to travel to Cape Reinga.
Harold began term 2 with a wonderful 2 weeks at Kerikeri Primary before travelling to the top of the North Island.
His next stop is at Oturu before heading into Kaitaia - thankyou everyone for making Harold and Sheree so welcome in your schools!

March 2022
We would like to thank Save the Children NZ, who have funded a large part of our classroom upgrade and committed funding to Life Education Trust Far North for three years. Thanks to their donation, along with the many from local businesses and individuals through the Give A Little page, tamariki in the Far North will have the same opportunities to learn as those in the rest of the country. Read more in this Sunday Star Times article
| | |
| --- | --- |
| | HP were also generous supporters of the upgrade. |
November 2021

This year we were proud to be the new hosts for the Waipapa Rotary Book Fair.
A huge shout out to all the Trustees who helped to make the event a success. Harold was at the door to make sure everyone signed in and had their mask on and he even managed to check out the books to the delight of the adults and children who were choosing books. This will be an annual event to be held the first weekend of November at the Sports Complex Kerikeri.
September 2021

A HUGE shout out to all those who supported us on our Give-a-Little page to make our dream come true - to get our classroom upgraded to the new digital model that is being used across the country. We could not have done it without the support of Give-a-Little and Matty from TV1 Morning show. The response from the interview was fantastic and we are so pleased to say that we have the funding to go ahead with the upgrade. We will share pics as soon as this is
done - which will not be until late Term 1, 2022.
July 2021
Our Chairperson Diane Henderson receiving a Lifetime Membership Award for service and dedication to Life Education Trust Far North.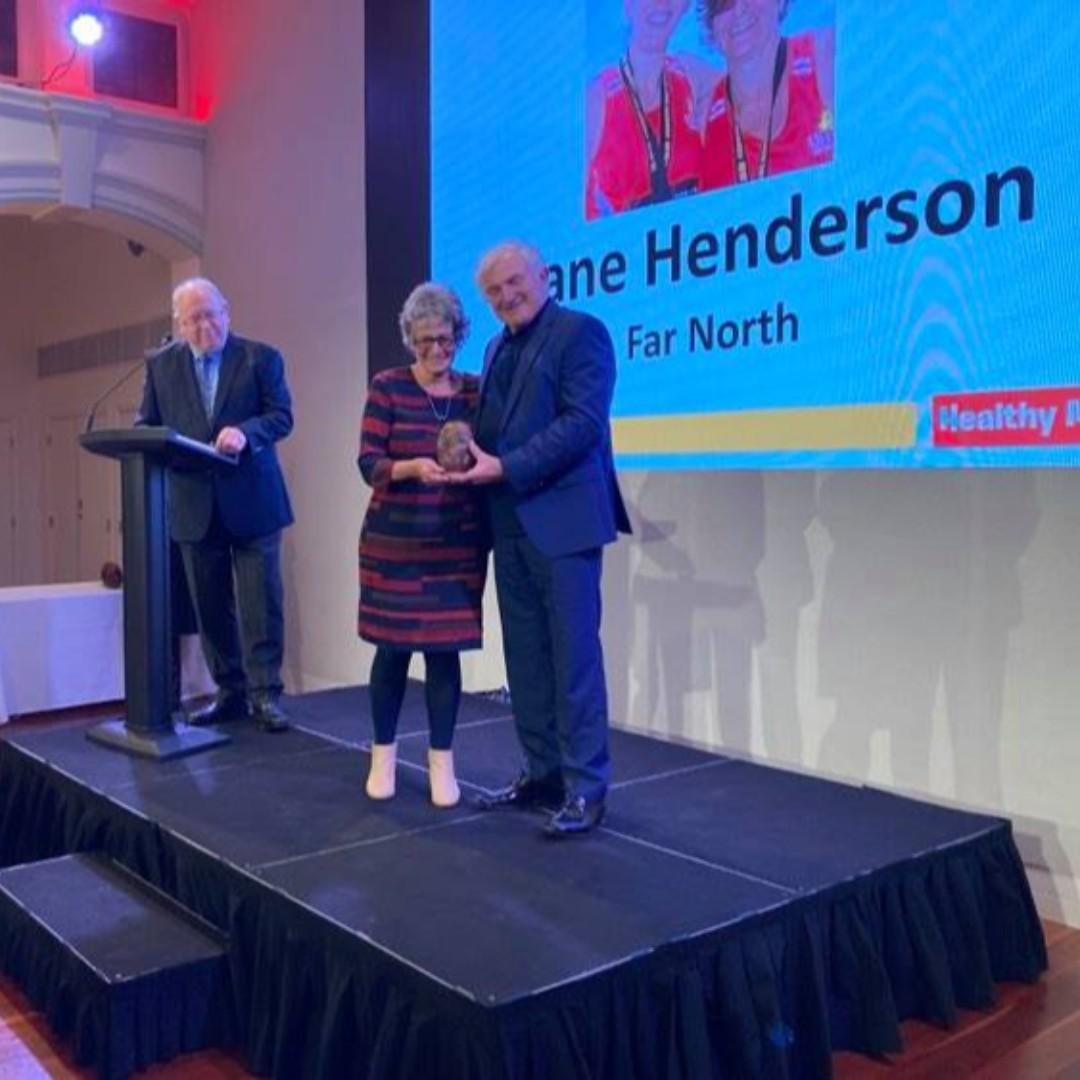 Early 2021

In early 20201, we hosted an event with guest speaker Nigel Latta, who spoke on the subject of parenting teenagers- with references to the difficulties faced over the past 12 months and offering some parenting skills and strategies to help through those adolescent years.

New Educator
Welcome to Shanna Forsythe our wonderful inspiring new Educator. Shanna began her journey with us this year and began visiting schools in Term 2. She has already made quite an impact in the Far Far North with her passion and enthusiasm for the programmes she is delivering. We are very proud to have her on board.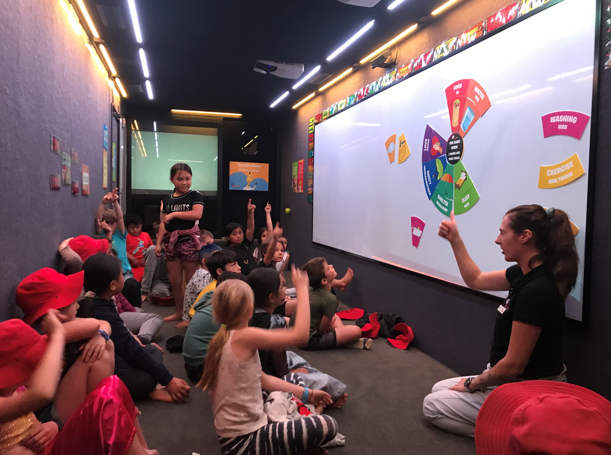 Good in the Hood
A huge thankyou to the three Z stations in our area - Kaitaia, Taipa and Kaikohe who have supported us during the Good in the Hood campaign. It was a pleasure to deliver home baked goodies in person and meet with staff at Kaikohe.
2020
In February Harold attended the Bald Eagles Mullet in the Park with All Black Jack Goodhue to support their work with at-risk youth and struggling families in Northland.
Harold attended the fun family day for Childrens Day at Rawene in the Hokianga in March.
The next generation meets Harold - Dad is proud to introduce his 4 month old to Harold at Hokianga Family Day in Rawene.
2019
Welcome to Mandy Morrogh, our new educator who began her journey in Term 3 in the Dargaville area. Mandy and Harold have already made some fabulous friends as you can see from the pics below.
We are very excited that we have funding to update our classroom exterior, this will happen during the Christmas holidays. We love the design we have as it depicts all the wonderful areas of the Far North that we visit so we have opted to replace it with the same design.
We are all working very hard to get the money together for our classroom upgrade - let us hope this will become a reality in the not too distant future.
Our People

[Trustees photograph 2008]

Current Trustees:
Diane Henderson - Chairperson
Jenny Couchman - Executive Secretary
Liz Christensen - Treasurer
Charles Stewart - Transport
Iwa Hou - Trustee
Tracy Edge - Trustee
Jamie Christensen - Marketing
Shanna Forsythe - Educator
Rhonwen Mansell - Funding Administrator
Contact details
Chairperson: Diane Henderson, dianesh50@gmail.com, 021 407 015
Educator: Sharee Carr, farnorth@lifeed.org.nz, 027 477 4800
Postal address: PO Box 723, Kaikohe