Mid and South Canterbury

Overview
Life Education Trust Mid and South Canterbury covers the Mid-South Canterbury area, from Rakaia in the North to the Waitaki River in the South and from the sea in the East to Mt Hutt, Mt Somers, Mt Cook and Twizel in the West.
We have been operating since 1991 and have celebrated over 30 years teaching children about the wonders of their bodies and how to live a healthy lifestyle. The Mid and South Canterbury Trust was launched with the support of the Trust Bank and the Community Trusts.
The Mid and South Canterbury mobile classroom travels to 67 schools in the area and our Educators see teach over 8,000 primary school aged children a year. We visit 18 schools with less than 50 children: 31 rural schools and 36 urban schools.
The state-of-the-art mobile classroom is air-conditioned and heated and is equipped with digital tools to make learning an exciting and memorable experience. We have two qualified Educators who share the workload, visiting 98% of the schools in our area.
Life Education Trust Mid and South Canterbury has a very strong Friends of Harold Club (FOH), with members from a wide range of local businesses, community organisations, service groups and families. The FOH creates an ongoing income which helps fund the annual running costs of the Trust. Our FOH Club and grants raise a good portion of our funds needed to provide our Healthy Harold Programme.
The mobile classroom and tractor unit are well recognised in the area with the recent outer rewrap creating a presence wherever it goes.
Facts
Life Education is non-Government funded
Schools are only charged a small portion of the cost to run our programme, ensuring we are able to reach the tamariki who need us most. The difference is met by Trustees' successful grant applications, fundraising and donations
Volunteer Trustees run the Trust and ensure it is able to meet the needs of our community
The logistical planning to schedule visits to schools is always planned one year ahead with a full calendar
Transport businesses support and collaborate by providing professional drivers to relocate the classroom according to the schedule of school visits
Our people
The office of Life Education Mid-South Canterbury is located in Community House, Strathallan Street, Timaru where we lease the space.
Trustees come from a variety of backgrounds and currently include a retired school principal, retired teacher, public servant, rural communities' representative, engineer, lawyer, current teacher, recreation and sport advisers, administration/logistics etc. Our Trustees reflect the Timaru and Ashburton parts of our region. We are volunteers who commit our time, expertise and knowledge without any reimbursement for costs incurred.
Combined, we are a small team of dedicated progressive and professional people, committed to contributing to our society and most particularly to children.
Jeff Paul, Chairperson
Clare Bruce, Vice Chairperson, Secretary
Kiri Pope, Treasurer
Marion Dent, Trustee
Moyra Whiting, Trustee
Murray Page, Trustee
Annette Bray, Trustee
Kerriann Gardner, Trustee
Alice Goode, Trustee
Kate Forster
Amy Pateman, Fundraising and Promotions Administrator
Nicola Buckingham, Financial Management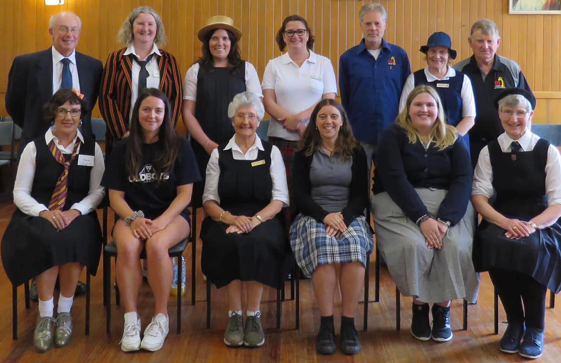 Our Educators



Amy Pateman

I'm excited to work with Harold and the Life Education whanau as an Educator.

I am both Primary and ECE trained and for the last 15 years have been managing ECE centres from Christchurch to Balclutha and all the bits in between.

I am a married mother of two with both of my children now at primary school in Timaru. As a family we enjoy bush walks and exploring the local district.

I am also the Trusts Fundraising and Promotions Coordinator.
Rudi Keggenhoff

Rudi is from Germany and studied in Germany to get his teaching degrees (one for teaching Y 5- 10 and another one for teaching Y 11 -13) in Geography and Sports. Rudi also has a Master's degree in Sports. He worked in Germany for a couple of years as a teacher and then moved to the USA (where he was mainly a stay-at-home dad for his two sons) for about four years, before moving to NZ in 2003. Rudi did a postgraduate study with the University of Wellington and got his Primary School teaching diploma. After teaching further in schools, he started with Life Ed in 2015.

"I love the philosophy of Life Ed and the message that Harold is standing for and shares. Having studied sports (which involves the human body and looking after our bodies, like eating healthy, doing exercise, looking after our wellbeing, etc.) I can easily relate to Life Ed's teaching and programme. Furthermore, I love to visit schools and see the excitement, energy and motivation of the students when they come into Harold's classroom. A lot of the time I also learn from the students either by them asking deep questions or inquiring more about the topic which in return makes me think, or just through their answers and sharing of experiences they encounter."
Contact details
Chairperson: Jeff Paul, 027 2436228, [email protected]

Educator: Amy Pateman, 021 081 86788, [email protected]
Educator: Rudi Keggenhoff, 027 433 2652, [email protected]
Administrator: Amy Pateman, 03 687 7369, [email protected]