Waipā/King Country

Overview
Life Education Waipā King Country was successfully reactivated in 2002 after being in recess for 3 years. Our rohe lies close to the Hamilton City Boundary, includes the entire Wāipa region, and most of the King Country, stopping short of the Taumarunui and Taranaki boundary.
Our main centres and surrounding areas are Te Awamutu, Cambridge, Raglan, and Te Kuiti, with 11,000 students.
In 2017 demand for Life Education, was such that we couldn't meet the needs of our schools. Our Trust made the decision that we needed a second mobile classroom to ensure that we could reach as many of our kura as possible.
With the dedicated mahi of our Trustees, and the support of our local community, we proudly started operating our second mobile classroom in 2019 /2020.
Educators Nicky and Abby now reach over 8,000 rangatahi annually.
We own and operate one tractor unit, and with dedicated volunteer drivers, they deliver Harold safely to our schools – many of which are very rural.
To be able to keep the two classrooms running, we need to rely on local individuals and businesses to sponsor and support fundraising activities to raise the required funds. Grants are also accessed when possible.


View our latest e-newsletter here
Buy our picture book
The Waipā Trust created this beautifully illustrated children's book featuring Harold the Giraffe. Proceeds will help Harold continue his work with our local tamariki. Price: $19.95

To order a copy, email Donna Davies or Kay Moir
Our Educators: Abby Miles and Nicky Wise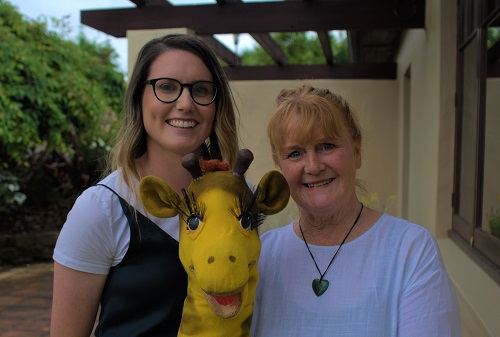 Tēnā koutou!
We are Nicky and Abby, the lucky humans who spend our days with Harold the Giraffe as he travels throughout Waipā and the King Country, visiting almost 7000 tamariki each year. We are fully registered teachers with years of experience teaching all levels of primary school aged children. Nicky joined Life Education in 2004, delivering quality Health curriculum learning and establishing strong relationships with schools. Abby joined the trust in 2022. Due to demand for programmes by schools, with a long-goal to be able to see all our schools annually, Abby and Nicky are both full time Educators. Together, they enjoy developing engaging resources that have a big learning impact when experienced in the mobile classroom. When not with Harold, we can be found at the gym…hanging with our fur babies, and sharing laughs with whānau and friends.
Meet the team
Joanne Wansbone - Chair

I was born and bred in Northland but have lived in Te Awamutu for over 40 years. Graeme and I have 4 sons and 7 beautiful grandchildren. I have been a trustee of the Waipā King Country Life Education Trust for over 15 years and have enjoyed being a part of such a positive, talented group. I am proud to have been part of the journey which sees the Trust now in an excellent position to weather financial challenges. As trustees we know that stability is essential to ensure the Life Education message is delivered uninterrupted to the children in our area. It has been inspiring to watch our educator Nicky deliver that message so creatively and appropriately to our schools, building up enduring positive relationships with schools and children. Nicky has been joined by our second educator, Abby, who is equally talented and creative.

Mandy Rasmussen - Secretary

I have been a trustee on Waipā King Country Life Education Trust since 2005. My husband and I have been living in Te Awamutu since 1993 and have two sons. It was when the boys were quite young that I became involved with the Trust. Life today for children is fraught with challenges and I believe that Life Education offers tools and resources to help them to deal with those challenges. I am a partner in a local law firm and enjoy the connection with the community through the Trust.

Donna Davies - Trustee

Having been a teacher within the Waikato region for 35 years, I became aware of Harold and the Life Education programme and I along with students, eagerly awaited the biannual visit. I was impressed by the content, teaching them how to make informed decisions, and the impact the programme had on so many students.

Having retired from teaching, but still involved in our family business and dairy farming, I made the choice to support Life Education by becoming a Trustee. My husband and I have three adult children and now enjoy the pleasure of grandchildren, whom I hope can benefit from Life Education when they are old enough.

Kay Moir - Trustee

Our four children all loved the Life Education programme when they were at school.

I have been a Trustee since 2017 and I am very passionate about the role Life Education Trust has in supporting the next generation to be well informed to make decisions which will keep them healthy and whereby they can contribute to the community they live in. My background has been as a Nurse and Life Education is a natural progression of my interest in keeping ourselves and our children healthy both physically and mentally. Life Education Trust delivers to the children at their school which I feel is important as this ensures no child misses out due to living rurally plus involves their classroom teacher.

Ken Miller - Trustee

Ken was one of a group of principals in Waipā King Country that worked to re-establish the trust in 2002. Now retired, his 36 years' experience as a primary school principal provides valuable insight for the trust. His other responsibility has been managing the movement of the mobile classrooms, owing to his background as a truck driver. Ken was made a Life Member of the Life Education Trust in 2021.
How could you support Harold to empower students?
Our major sponsors

Contact details:
Chairperson: Joanne Wansbone, 027 273 6084
Educator: Nicky Wise, 027 293 4428, [email protected]
Educator: Abby Miles, 021 721 161, [email protected]
Postal address: Life Education Trust Waipā/King Country, PO Box 317, Te Awamutu 3840